About Norway House Health Integration Initiative:
THE FIRST NATIONS & INUIT HEALTH BRANCH OF HEALTH CANADA PUT FORTH A PLAN TO IMPROVE THE HEALTH OUTCOMES OF FIRST NATIONS & INUIT PEOPLE BY:
1. seamless receiving of services
2. access to the same quality & availability of services as others living in similar areas
3. have a say in the planning & delivery of services
4. begin to focus more on PREVENTION of illness and PROMOTION of good health

PURPOSE OF HEALTH INTEGRATION INITIATIVE:

to look at and find models to better link health services offered to First Nations & Inuit

HII KEY ACTIVITIES
AUGUST 2003 – MARCH 2006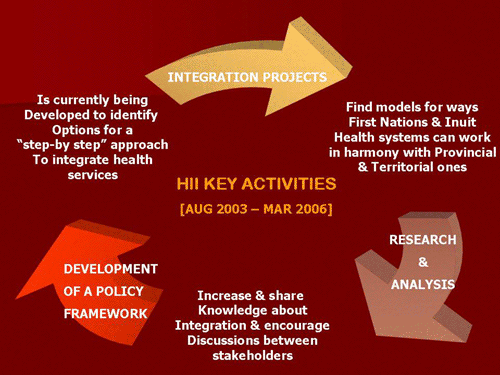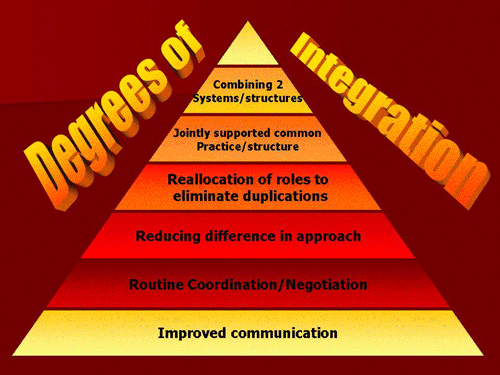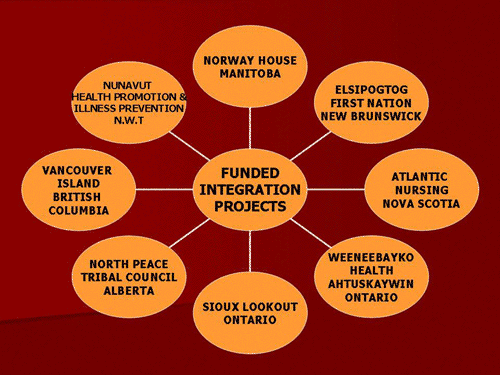 About Norway House Health Integration Initiative Process:

The Norway House H.I.I process began in April 2004 and is continuing until March 2006. The Norway House team has taken all the degrees of integration set forth by the H.I.I Secretariat in Ottawa, Ontario, Canada, and established their own level of integration. The project has evolved continuously since the beginning and has turned into a full-fledged plan for a new Health Centre for the community. It has become obvious through observing the gaps and duplications of all health programs and services in Norway House that the need for a new facility is necessary.

To date, Health Services are separated throughout Norway House, on one of the 3 islands (Mission Island, Fort Island, West Island) or the mainland. The services are offered in one of the following buildings, or as part of one of the following programs: Norway House Hospital, Norway House Clinic, Pinaow Wachi Personal care Home, Kinosao Sipi Dental Centre, Emergency Medical Services, Treatment Access Program, Central Dispatch Services, Phillip Evans Memorial Home.
This spatial problem will be rectified by integrating all under one umbrella facility – a state of the art Health Centre. Negotiations continue with all Partnership Government levels that fund health service delivery in Norway House.

The current Health Integration Initiative team consists of:

Lisa Clarke – Coordinator
Aiden Todd – Assistant Coordinator

Health Facility Planning
There are several sequential stages to a successful health facility planning\project. Each is designed to address important questions and issues and each has opportunity for dialogue and discussion with front line staff and throughout there are opportunities for effective consultations with the community.

While the terminology varies, there are three general planning stages followed by facility design.

1) Service Plan: The first stage focuses on setting overall direction and developing a common vision for the delivery of health services in a community. The questions that this first stage addresses include: What are the health needs of the population? What services need to be provided in a community? What are the best ways to link in with other services provided in other locations? There are other similar questions that help fill out this first stage of setting overall direction.
In the Norway House HII project, this first stage is being called the Master Service Plan. Consultation with the community and staff is at a Œdirectional1 level and as much as possible health planners need data on health needs and usage of existing health services.
After the Master Service Plan is agreed to by the community and funding
governments, two additional stages of planning can begin. One is called Functional Programming and the other Site & Facilities Development Planning.

2) Functional Program: Functional programming takes the direction approved from the Master Service Plan and develops detail information for each program/service or department that drive the amount and type of facilities needed to house these services (such as detailed projected workload, number of staff by type, individual rooms and sizes for these staff and patient care activities, and any special facility system needs (e.g. security, telecommunications, etc.)
This process involves extensive staff consultation around the detail in all areas of the health service program. Timely community consultation can greatly assist this part of the planning.

3) Site & Facilities Development Plan: Based on the Functional Program, a detailed assessment of existing and alternative sites and existing facilities is completed. This assessment determines whether existing facilities are adequate
and if they are not, then what is the best way to accommodate the proposed/approved new programs and services. In some places it is extensive renovation, in others, where facilities have become outdated, new facilities are recommended. In the case of new facilities, community input is frequently very important.
While the Master Service Plan can take 3 to 6 months to complete, a Functional Program and Site & Facilities Development Plan can take up to 8 months to a year to complete both components.

One of the important outcomes of completing these stages of planning is an estimate of costs, both capital and operating that would be needed to carry out the plans for improved health services. As these are being reviewed and approved by governments, it is usual practice to engage architects to start the detailed facility design. Again during the work of the architect, there numerous opportunities for significant staff input into the planning and design and timely
opportunity to consult community. It can be two to three years from the time architects become involved until a project is complete.

This is brief overview of a usual planning process for improved health services.
Please contact Jim Harrold at jharrold@bmts or Kerry Toll at ktoll@altusplanning if you need more information.
Norway House Programs and Services

The multi-jurisdictional funding and provision of services has created a very complex healthcare system for the community of Norway House. The majority of services are now delivered by Norway House Cree Nation (Norway House Health Services) under the Health Division. Other services are delivered under some form of joint agreement between Norway House and the Government of Canada or Manitoba. The following is a description of each service:

a. Community Physician's Clinic:

Norway House Health Services (NHHS) is the vehicle through which the physician and clinic services are delivered to all community residents. Both Manitoba Health and the First Nations & Inuit Health Branch (FNIHB) provide funding to sustain the clinic operation. NHHS contracts with physicians for the provision of their professional services as independent contractors. Long-term contracts provide for enhanced continuity of care and the stability that is necessary to manage chronic care cases. Both the University of Manitoba's Northern Medical Unit (NMU) and FNIHB, through their complement of northern physicians, provide contingency staffing and locums when necessary.

b. Public Health:

The responsibility for the Public Health services in the community was transferred to Norway House Cree Nation (NHCN) by FNIHB in 1998. The staffing level funded by FNIHB is for 4.5 public health nurses. Public Health services are provided to all residents of the community, regardless of status, in accordance with the 1964 Agreement. This program offers a full range of public health activities, one example of a mandatory program that is delivered is immunization which sustains the maintenance of maternal and child health, school health, nutrition, dental health, communicable disease control, tuberculosis control, diabetes, and chronic disease.

c. Telehealth:

Norway House is part of the Manitoba Telehealth Network and provides both clinical and educational services through the T1 link. Manitoba funded the infrastructure for Telehealth, including the cost of the T1 line into the community and the purchase of the necessary on-site equipment. Manitoba Region FNIHB declined to provide funding for the Telehealth Coordinator position, even though this was the agreement between Health Canada and Manitoba. Consequently, this position was funded by routing payment from Ottawa to the Winnipeg Regional Health Authority and on to Norway House Cree Nation, thereby circumnavigating Manitoba Region FNIHB.

The Telehealth Project provides referrals to specialists in Winnipeg and Thompson, reducing the need for travel outside the community. A satellite or ground link is used to connect a specialist or other health care provider to a patient.

There is also an educational component that provides opportunities to participate in Grand Rounds and Continuing Medical Education and Continuing Nursing Education. MB Telehealth is a network for Manitoba residents and surrounding areas to receive comprehensive health care services that overcome barriers of distance and time. The use of technology links people to health care expertise at a distance and the ability to communicate on a television screen.

d. Home and Community Care Program:

NHCN manages a Home and Community Care Program for the Status First-Nations peoples through funding provided by the federal government. This program combines the funding received from both FNIHB for the Home and Community Care Program with the funding from Indian & Northern Affairs of Canada (INAC) for the Adult In-Home Care Program. The Burntwood Regional Health Authority provides minimal home care services for the non-status, off-Reserve population.
This program provides in-home care to those individuals who are assessed and eligible to receive home care services.

e. Physician and Consultant Services:

The physician services are provided through Norway House Health Services (NHHS), from funding provided by both Manitoba Health and FNIHB. The Community Physician's Clinic operates as a stand-alone clinic even though it is adjacent to the Hospital. The medical staff are granted privileges in the Hospital as recommended by the College of Physicians and Surgeons of Manitoba.

Manitoba Health approves the provision of 114 days per year of consultant services in the community. The visiting consultants include obstetrics/gynecology, orthopedics, ophthalmology, paediatrics, psychiatry and the diabetes team.

In 1995, Manitoba Health approved a staffing level of 5.83 physicians for the community of Norway House. This staffing level is based on the theoretical concept that one physician is required to service each one thousand population. The provision of physician services is contracted to the University of Manitoba's, J.A. Hildes Northern Medical Unit (NMU).

The NMU have had the responsibility for the provision of physician services, including the supporting clinic infrastructure, in excess of twenty-five years. Although 5.83 physicians are theoretically allocated to Norway House, the NMU have seldom been able to provide a full complimentary of doctors. Additionally, the practice in Norway House is that the physician on locums does not schedule clinic patients because of physician shortages. A compliment of Nurse Practitioners take on the majority of the workload in the clinic and are on call evenings and weekends. The result of the overall system is a significant backlog of patients waiting to see a physician.

Physicians have seldom stayed in the community for more than a year. This has resulted in a constant turnover of the medical staff and a lack of continuity in the provision of service to the residents of the community. The concept of a "family doctor" is not available to community members. Norway House Cree Nation is currently experiencing a physician resource crisis that has led to significant patient referrals to urban health centres. The Statistics Report identifies the number of patients seen at the clinic, number of hospital admissions, emergency Out-Patients, Emergency Medical Evacuations and Out of Community referrals.

f. Aboriginal Diabetes Initiative (ADI) and Health Education Resource Program

This program was established to raise awareness on diabetes, including risk factors to prevent the development of diabetes, improving and increasing self-management to those already inflicted with the disease. Health Education Resource Program is to provide access to general health education, as well as the prevention and promotion of various health issues.

g. Community Wellness Program

This program was established to provide mental health counseling and treatment to those individuals or groups who require it.

| | |
| --- | --- |
| • | Provide prevention and intervention services to individuals and groups in the area of alcohol, other drugs and solvent abuse. |
| • | Provide support services to individuals and families after treatment programs. |
| • | Provide prevention and intervention strategies to relieve stressors, chemical dependency through educational awareness. |
| • | To network and work collaboratively with community-based programs, resources and other agencies locally and out of town. |
| • | Re-establish the community-based crisis response team regarding suicide prevention. |
| • | Provide outreach services to prevent the development of and reduce the harms associated with alcohol and other drugs problems and to address emotional and mental issues. |
| • | Establish the use of virtues throughout the community and schools. |
| • | To develop a language or respect and caring for all community members. |

h. First Nations Drinking Water Safety Program

This program reviews, interprets and disseminates drinking water quality sampling results for bacterial, chemical, physical and radiological contaminants, in order to monitor safe drinking water for the community.

i. HIV/AIDS Program

This program provides education and awareness of HIV/AIDS which includes a number of public health initiatives and activities, and an annual conference. The goals are to promote the well being of people by dealing with concerns with concerns that effect persons living the AIDS, and to establish family and community support systems.
j. Canadian Pre-Natal and Nutrition Program (CPNP)

This program aims to educate in proper parenting techniques, and is widely focused to achieve an overall safe and healthy living environment for children. It is designed to improve the knowledge of nutritional practices among families, and in turn, the nutritional health and general health status of pregnant women and children. The program maintains a focus in striving to give babies a healthy start in the womb and continue healthiness after birth.
k. Medical Transportation Program

Norway House Cree Nation adheres to the First Nation and Inuit guidelines as provided by the agreement and directives. Norway House Cree Nation established the Treatment Access Program (TAP).

Norway House Cree Nation is responsible for the authorization and payment for goods and services associated with Medical transportation for its band members who are referred out for medical treatments. The services include travel to and from medical transportation within those centres, accommodations, referral services, and escorts/interpreter services, Local Patient Transportation and Traditional Healer.

TAP has a primary office in Norway House that attends to ground transport to and from the clinic, hospital, and dental clinic, as well as the airport and bus terminals. TAP also maintains an office in Winnipeg, located at 333 Maryland Street, to attend to transportation and accommodations within the city for patients and escorts (if required).

l. Hospital Security

The security personnel provide security services for the Norway House Indian Hospital seven days a week. During the week (Monday – Friday) the security services are provided from 16:00 to 08:00 with 24-hour security on weekends. A list of incidents in regards to safety are collected and reported accordingly.

m. Dental Services

Kinosao Sipi Dental Centre is the result of an agreement between the University of Manitoba and Norway House Cree Nation. The intent is to provide a community controlled oral health program.
The Dental Centre is owned and operated by Norway House Cree Nation in partnership with the University of Manitoba. It is a fee for service business generated by services provided.
Dental students from the University of Manitoba who are in their final year of studies also provide services to patients. The faculty of Dentistry at the University of Manitoba provides students on two-week externships throughout the course of academic year.

| | |
| --- | --- |
| • | Orthodontic Services are provided on a monthly basis. (Braces) |
| • | Oral surgery for adults is provided on as needed basis. |
| • | Full dental services (Fillings, extractions, etc.) |
| • | Endodontic services (root canals) |
| • | Dentures (complete/partials) |
| • | Children's Dental Surgery Referrals |
| • | Full Hygiene Care (Cleanings, etc.) |
n. Emergency Medical Services

Since 2001 the Ambulance Service remains to operate at a Basic Level Support (BLS). The assistance provided for many emergencies may include;

| | |
| --- | --- |
| • | Primary survey to search for any life threatening problems such as airway, breathing, circulation, and bleeding problems |
| • | Secondary survey to search for any non-life threatening injuries such as muscoskeletal and soft tissue injuries |
| • | First Aid treatment |
| • | Oxygen therapy for victims showing signs of Dyspena/Chest pain, having trauma related injuries, and for severe arteriole blood loss |
| • | Defibrillation to cardiac arrest victims |
| • | Administration of Acetylsalicylic Acid (ASA) for suspected acute heart attacks |
| • | Administration of Acetaminophen- Pain reliever for trauma related injuries |
| • | Administration of Epinephrine / EpiPen for patients suffering severe allergic reaction |
| • | Blood sugar testing and glucose administration for hypoglycemic emergencies |
| • | Tubes maintenance for non-urgent care and transport of patients with an indwelling intravenous lines, urinary catheter, and nasogastric tubes |

We also offer various public services such as:

| | |
| --- | --- |
| • | Non-urgent medical transport by licensed medical attendants, such as during medi-vac or stretcher case transfers |
| • | A public service offered to event organizers where we provide one emergency ambulance staffed with two licensed medical attendants dedicated to stand by in case of accident or illness |
| • | Certified first aid and CPR courses |

o. The Hospital Complex:

The history of the Norway House Hospital dates back to World War 1. The Department of National Health and Welfare opened a small Hospital near the United Church Mission located in the Rossville area within the community. This building had burned down during the winter of 1918-19. When this occurred temporary quarters were used until another facility was built.
In 1925, a Nursing Station of two storey infrastructure was built in the Rossville area that was comprised of 5 inpatient beds. In 1952 this building had burnt down before the completion of construction of the current "Norway House Indian Hospital".

The Hospital is an acute care facility, owned and operated by the First Nations and Inuit Health Branch (FNIHB) of Health Canada. A supporting complex of buildings that includes a large number of residences and accommodation buildings, a clinic building, a trade shop, water and sewage treatment plant, a garage, and several other support buildings surrounds the Hospital. The original Hospital structure was built in 1952, and the building underwent a major renovation and downsizing in 1981. The principal result of this was to reduce the bed count from 30 to 16 plus three bassinets, and to upgrade the patient care areas. The Hospital formerly provided health services for a much larger area with the centralization of services in Winnipeg, which has diminished to the immediate environs of some five to seven miles radius.

The nursing unit, all patient care services and the Emergency Room are located on the second floor. The ground floor accommodates the Dietary, Housekeeping and Laundry Departments, as well as the Administrative Offices. The medical coverage, nursing and technical staffing levels are minimal as the activity levels are increasing and the number of allocated positions has not increased proportionately. The facility functions as a primary care hospital with an adjacent community physician's clinic.

The services that are provided include general medicine, pediatrics, out patient department/emergency room, low-risk obstetrics, diagnostic radiology and laboratory services, as well as haemodialysis. FNIHB allocates the number and type of positions for the Hospital Nursing and Support Services.

The inpatient beds were shut down in 2005, and negotiations continue to attempt to open up the Hospital for the needs of the people while plans for the new health facility occur. Currently the Norway House Hospital can no longer be renovated and is past the life expectancy. The Community continues to negotiate for a modern integrated Health Centre to service all community members.